PLiCy is a site for "game communication services" that you can publish and share your game with PC browsers and smartphones.
With this service, we aim to provide the place to expand the individually produced games to a wider range of users and to play those games.
What you can do with PLiCy?
In PLiCy, you can create action games and novel games.

You can make games with any PC or smartphone
When you use PLiCy, you can make an action or novel game for free.
You can easily publish your games for smartphone and PC, and you can also easily share the game to your friends.


If you want to create an action game
, you can do it even without an account.
If you want to create a novel game
, you need to
SignUp
.
Please check the FAQ for
how to make an action game
and
how to make a novel game
.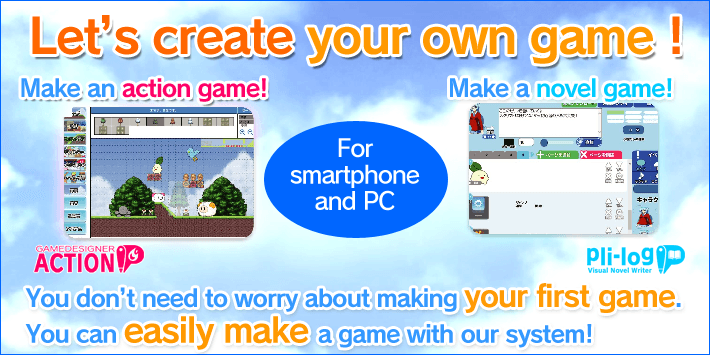 You can upload and publish a game from your browser or smartphone
You can upload and publish games made with RPG Maker 2000, RPG Maker VXAce, WolfRPGEditor and ClickteamFusion2.5.
You can even play games that have never before been compatible with a browser or smartphone.
You can share games other people have made.
In PLiCy, anyone can share and play games others have made.
A lot of games are published in PLiCy, but all these games are created by each person contributing.
Everyone can play these games freely in a browser or a smartphone.

You can comment on the games other people make
In PLiCy, you can comment on the games that other people make.
If you press the button labeled mini play-by-play while you are playing the game, you can share your comments about that scene.
Usually, it is hard to comment about a specific point in the game.
By pressing the mini play-by-play button, you can express yourself clearly, and its easy to see where and what other players thought of the game.

Innovations in PLiCy
The benefits of using PLiCy are for both creators and users.
Benefits for Creators
You can easily and widely publish your games which were previously difficult to share with other users.
Previously, individually produced games had little chance to be noticed by other users, so those games didn't get a good opportunity to be appreciated.
However, if you use PLiCy, we can provide the service of directly converting your created games to play on browsers.
If you use a favorite tool compatible with this service, you can keep using that tool to make and post your game.
Benefits for Users
You can easily play many free games without downloading or unzipping files.
PLiCy uses our own streaming technology so we can provide incredibly smooth and high-quality games compared with previous browser games.
Users can enjoy sharing games in a way similar to video sharing sites.
Additionally, it's not necessary to do complicated tasks, such as downloading or unzipping files in order to play a game.
When you access the published game page, you can play games right away.